Sale!
Description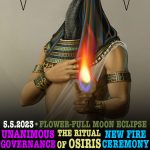 An evening of Thoth and friends on the flower-full moon penumbral lunar eclipse at the Overlook at Meehan in North Providence, RI, on 5.5.2023 from 3-11 pm. This is a VIP catered event limited to 250 people max. Tickets include all-day access to the Overlook at Meehan recreation park on the water. Food and entertainment will be provided, including three intimate Q&A panels held throughout the day curated by James True with some of the most thought-provoking voices you can find today.
Thoth Circles on:
Unanimous Governance – Wampum and ledger consent under the Iroquois Confederacy.
The Ritual of Osiris – How technology changes our definition of the soul.
A Better Theory of Reality – Defining reality using modern terms and ancient mythology.
*Panel guests will be announced after pre-sale tickets are sold.
We have met our startup goal. We have 55 tickets at the $88.88 price.