Yesterday, I was booted from Facebook for bullying. It turns out you can't hold someone accountable for their behavior even if they use a pseudonym. I have decided if I can't speak my mind on polygamy, my time on that platform is done. She calls herself "L." She's much too unaccountable to use her whole name. She reported me for posting this painting she sent me and for writing what I knew about it. This painting is her on my desk where I livestream every day. She sent it to me a few nights ago before climbing into bed with another man. She is a closet polygamist. I keep trying to make it expensive for her to talk to me behind her lover's back but she can't seem to feel the burn. L has been playing me and Andy in a love triangle since April. I have told her repeatedly how disrespectful it is for her to keep reaching out to me behind his back but it hasn't been expensive enough for her to stop doing it. She is addicted to the electricity of lying to both of us. It gives her safe distance from the man who owns her bed. A man who I despise for abandoning our friendship to win her from me. For you see, I loved L and she chose him over me. I continue to accept that loss as best as I can. It would be easier to swallow if she would stop telling me how much she loves me and dislikes him. There is never a dull moment in this apocalypse. This is the vitriol they speak about in scrolls. I keep believing it's true because she keeps saying it to me. She wraps my hands around her body to add distance between her and him. She watches me squirm on my livestream after dangling grapes about coming back to me. I keep lying to myself because I am addicted to the electricity of being redeemed.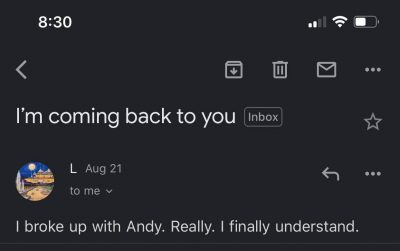 L is something I have struggled with all summer. But she is gone now. This post burns any lingering affections we could have for each other on the public stake. I recruit your witness to hold me to this as you read. She has always wanted me to eviscerate her so she could feel something. She never liked me as much as she liked the passion I could secrete. I am sweat, tears, and cum and she tasted my salt to feel alive again. I am her surrogate adrenals. Our attraction forged a boundary she could rest behind to be with Andy. She is an artist who paints in polygamy. She sends me trinkets from the times she lied and before the times I knew. Those were nights both of us could pretend she was real. When I was tranquilized by her lies by omission. My addiction survived every cruelty she's inflicted on my self-esteem. And me, up late, evaporating blood crystals over a keyboard as she sleeps in his arms and texts me in the morning about how she dreamed about me. A bad woman cuts with a rusty knife. A good one keeps her blade clean.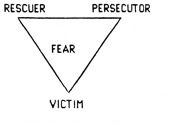 Polygamy is a sign of disassociation. It's an addiction to the electricity of triangles. If you are a closet polygamist, I don't want you tainting my witness. Disrespecting your partner every day by working a triangle in the background is wrong. As much as I dislike Andy, no one deserves to be treated like this. Not him. Not me. I have thrown every magic I know at this triangle to break it. I gave up winning her back months ago knowing she would never leave. I blocked her account and she called me under an alias to send me messages while he sleeps. She wants to meet naked in the woods while she tells him she visits her mom. I keep saying no when I want to say yes as she keeps raising the stakes. While Andy is squirming to keep her, I am squirming to forget her face. I have shared every comment from L with him. I have told him everything she says about him or me. I have been doing this all summer and he never replies or tells her what he knows. He doesn't mind the triangle. He doesn't mind her infidelity. She is a trophy in his home and she enjoys being a commodity. Only Andy knows how to keep her because Andy shares the same kind of emptiness. He knows apathy is the only thing keeping her next to him in his bed. He is just as much of a prisoner to this addiction as I am.

I am here to make lying about polygamy expensive. There is no such thing as a healthy love triangle. I wish them both the future they deserve. I can only imagine how dull it will be without someone like me in the picture. On Tuesday, my Facebook restrictions are lifted. I will post the same post that got me in trouble the last time. L can claim the truth is a bully all over again. I will go down on this hill knowing I stood for the right thing. No one profits from polygamy. You can find L on YouTube. She is a public figure who likes to put herself out there as a fighter for truth. She enjoys the audience until it's about her. Then, she uses the very system she claims to be fighting to censor me. But the truth is for all of us. Not just those who profit from its encryption.
If you think I am ashamed of this, I am. My weakness for a woman's venom is a vitriol that keeps paying. It's mixed with jealousy for Andy and a longing for L as both of them reject me. But I was the one who brought them together and gave them this electricity. If they truly loved each other they would be thanking me for the donation. I can feel it now taxing my gut as I spend another day on its alchemy. My heart carries a deep addiction for a woman's belief in my redemption.