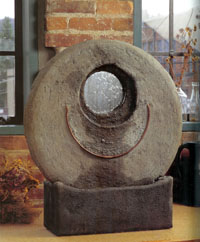 This stone circle fountain was also featured in Lark Books 1999 book Tabletop Fountains. Fountain was cast in Asheville, North Carolina. Ingredients include refrigerator tubing, vermiculite, portland cement, copper refrigerator flexible pipe, broken bathroom mirror, and one brick.
Aquarium sealer applied to interior of concrete base. Surface was scraped for texture and wet chiseled to finish. This fountain was last seen on my old porch in Asheville.
Photo was shot in somebody's really fancy apartment in downtown Asheville, behind what is now a Mellow Mushroom.