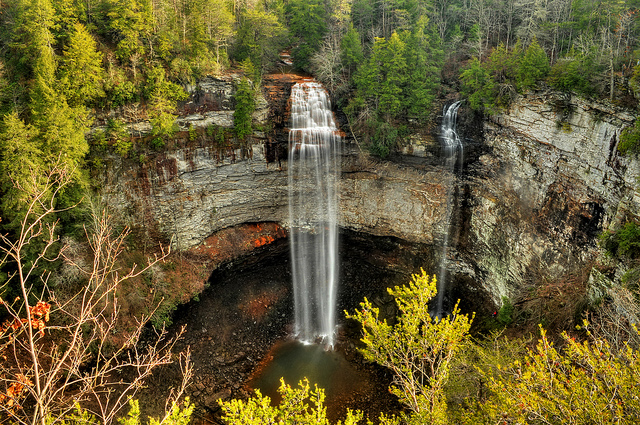 (Mar 6, 2011) My first 15k. Heck my first time running longer than 7 miles! Saturday, drove to Pikeville TN and ran in the Fall Creek Thaw 15k at Fall Creek Falls. This state park is stunning. Waterfalls, rock cathedrals, a giant lake, trails, cabins, the works! I'd been to the park a few times in my youth. It was very cool to come back after so long. Funny i had no idea there was a giant hotel there. We always were "slumming it" in a tent. I can't imagine how dull that would have been in the hotel but hey different strokes right.
So they were calling for rain all day. I was worried as i made the 5 hour drive that i might get dumped on. The radar map looked like a giant Kermit the Frog had descended on the south. Still, i was going to run this race regardless. This was my long run for week 6 on my HM training plan. I was set for 8 but i saw this race and thought it would be perfect.
An old college buddy met me at the race. I hadn't seen her in a long time. She even watched my dogs while i raced. I've never had a fan at a race before. It was a wonderful motivator to know someone was waiting for me at the finish. We were still exchanging hugs when i noticed the time. The race was starting about a half mile up the hill. I had to run to get there. As soon as i hit the start line they said go. I still had to put my equipment on and hit start on all my gadgets. The race wound up and down about 500 feet of elevation. Most of it was asphault. The biggest obstacle was not stopping at the amazing views along the way. You could tell who was here to run and who was here to race at the overlooks. Most of us were slowing down to smell the roses but a few huffers-and-puffers steamed on through.
There were some climbs but i never felt them. All my pilates classes were showing their skittles as i rumbled up the hills. I was trying to go slow on the downhills because the distance had me nervous about hurting my knees. I also was wearing one to many long-sleeve shirts and a hat neither of which i needed by the second mile. I was simmering until mile 6 when i finally had to stop and change clothes. (Changing clothes takes a lot of time when you consider your bib, your iphone, your headphones, and your garmin.) Anyways, i finally got situated and finished the last three feeling much better. It never rained either. We finished the last mile along the lake. Again the views were just stunning despite the gray overcast skies.
I could have run faster and my average pace was less than i had hoped, but i was really nervous about conserving energy since i was new to this distance. Here's my splits: 9:11,8:50,9:36,9:28,9:48,10:38,9:25,9:40,9:09 Lots of trees so i have no idea where the last .4 miles went. The final two miles were pretty curvy under dense trees. I know i was running faster but garmin says what garmin says 🙁
I know there's a lot of discussion about being "chicked". As i've said before, this doesn't bother me considering the speed and endurance of so many runners. But i do have to say this. When i crossed the finish line, my friend informed me that i was "babied". Apparantly a pregnant lady had beaten me by a good bit. HAHA, So i have been "babied". yes folks, a fetus beat me in my first 15k! My friend tried to comfort me by saying she wasn't "that pregnant". I told her about the whole concept of getting "chicked". And even about getting "banana'ed". That's when a runner gets passed by another runner wearing a full banana suit. We had a good laugh regardless.
One thing i know for sure. I am feeling so confident about running the half marathon now. Turns out 9 miles ain't so hard afterall. In fact it was a blast!
Overall: 93/172 Gender: 68/93 Age: 13/20 Time: 1:28:10 Pace: 9:29