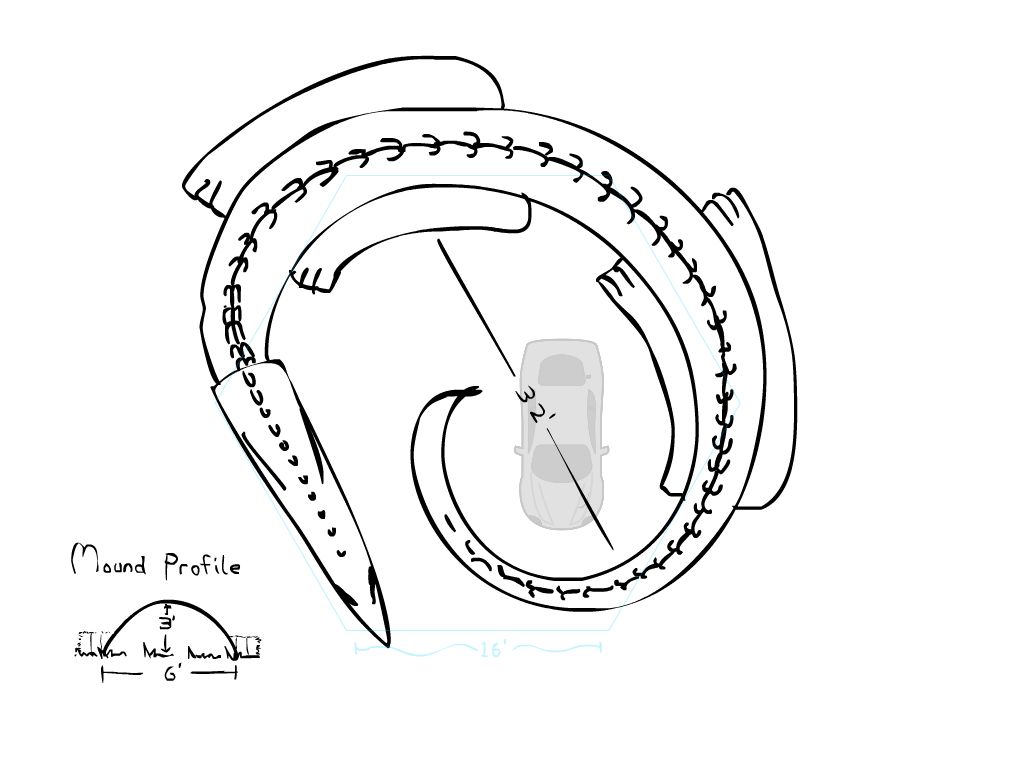 Gaia Dragonus is a mound dragon with a spine measuring 112 feet from nose to tail. It was inspired by walks at Moccasin Bend in Chattanooga, Tennessee where a 12,000 year old burial mound was discovered and protected in 1993.
Constructed of 300 hay bails and rounded with dirt/mulch and an outer coat of fresh green dragon scales. The mother dragon is sleeping peacefully coiled around her precious light-emitting dragon eggs. Lazy smoke comes out of her nostrils as her eyes remain closed in slumber. Entering the dragon's circle makes you feel like one of her resting babies. Inside her embrace new ideas are gestating and the slow calm breathing of mother dragon can be felt with lighting and sound effects from inside the mound.
The diameter of the dragon mound is approximately 32′
The mound's womb is about the size of six parking spaces.
The Dragon's head will be constructed of plywood and house the electronics for the mound.
The dragon's head and spine will be decorated with bamboo scales. The body will be made of sod cut into scales and weaved into the body.
The mound is thick enough to walk on and lay against. The mounds' ridges are adorned with bamboo scales and live plants.
The amount of fill is calculated as follows:
6 feet wide x 3 feet high x 112 feet long
2,016 cubic feet of dirt (w/o hay)
300 bails of hay will form the entire figure.
Materials
Filler – 75 cubic yards of dirt/mulch
Sod – 672′ sq feet
Plants – Budget variable
Skull/Head – Budget variable
Dragon Eggs – Budget variable