Description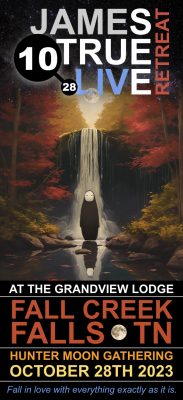 We have reserved the entire Grandview Experience Lodge at Fall Creek Falls and are hosting a gathering on October 28th, 2023. Your ticket gets you full day access to this amazing property and all its amenities. Meet and greet with James True and friends. Learn about the Moon-eyed People and the history of this very special place. A live action reading of the screenplay, The Hidden Hand. Enjoy the full moon fire in a setting that simply puts you in your spot.
Fall Creek Falls State Park is one of Tennessee's largest and most visited state parks. The park encompasses more than 29,800 acres sprawled across the eastern top of the rugged Cumberland Plateau. Laced with cascades, gorges, waterfalls, streams and lush stands of virgin hardwood timber, the park beckons those who enjoy nature at her finest. Fall Creek Falls, at 256 feet, is one of the highest waterfalls in the eastern United States. Other waterfalls within the park include Piney Falls, Cane Creek Falls, and Cane Creek Cascades. The park is located in Bledsoe and Van Buren counties, 11 miles east of Spencer and 18 miles west of Pikeville. It may be entered from Highway 111 or Highway 30.
Fall Creek Falls features 30 cabins, 222 campsites, and the 85-room Lodge Fall Creek Falls. Backcountry camping is also available with a permit.