Tribe, the latest edition of our very own Vitriol Orchestra Newsletter, Aquarian Earth is here! Click the link to download your own copy of the pdf file.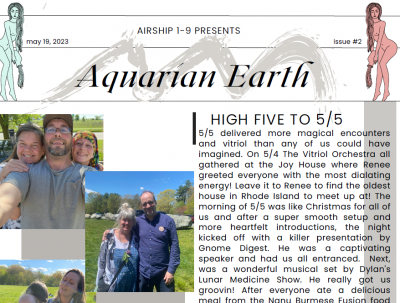 "5/5 delivered more magical encounters and vitriol than any of us could have imagined.
On 5/4 The Vitriol Orchestra all gathered at the Joy House where Renee greeted everyone with the most dilating energy! Leave it to Renee to find the oldest house in Rhode Island to meet up at!
The morning of 5/5 was like Christmas for all of us and after a super smooth setup and more heartfelt introductions, the night kicked off with a killer presentation by Gnome Digest. He was a captivating speaker and had us all entranced. Next, was a wonderful musical set by Dylan's Lunar Medicine Show. He really got us groovin! After everyone ate a delicious meal from the Nanu Burmese Fusion food truck, we gathered around for James' presentation. Full body chills were had by everyone there. We finally got to see what James does so well, in person. He even remarked that it was so beautiful to be able to look everyone in the eyes while talking.
The whole time a beautiful fire was roaring outside while kids dug for treasure inside Gus IYKYK. Pam & Renee absolutely nailed the visuals with their puppet show! On 5/6 we all continued the conversation at Lincoln Woods. Some played soccer while others sang songs at the beach led by the wonderful Dylan and Thomas. We are already planning the next one. So, if you missed it, don't fret!"